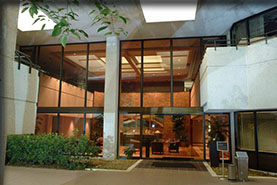 As a hub of state-of-the-art information technology, the MS e–Center @ JSU provides a secure high-tech environment offering competitive advantages, career and business development, and support services to assist evolving businesses, researchers and organizations to excel in the global marketplace.
The MS e–Center @ JSU also houses the Executive Conference Center for conducting on-site or virtual meetings with groups across the state and world. The Media Complex encompasses WJSU, TV23 and the School of Mass Communications.
The Mississippi e-Center Foundation, the parent organization of the MS e–Center @ JSU, was incorporated as a 501 (c) 3 private foundation in 2001.