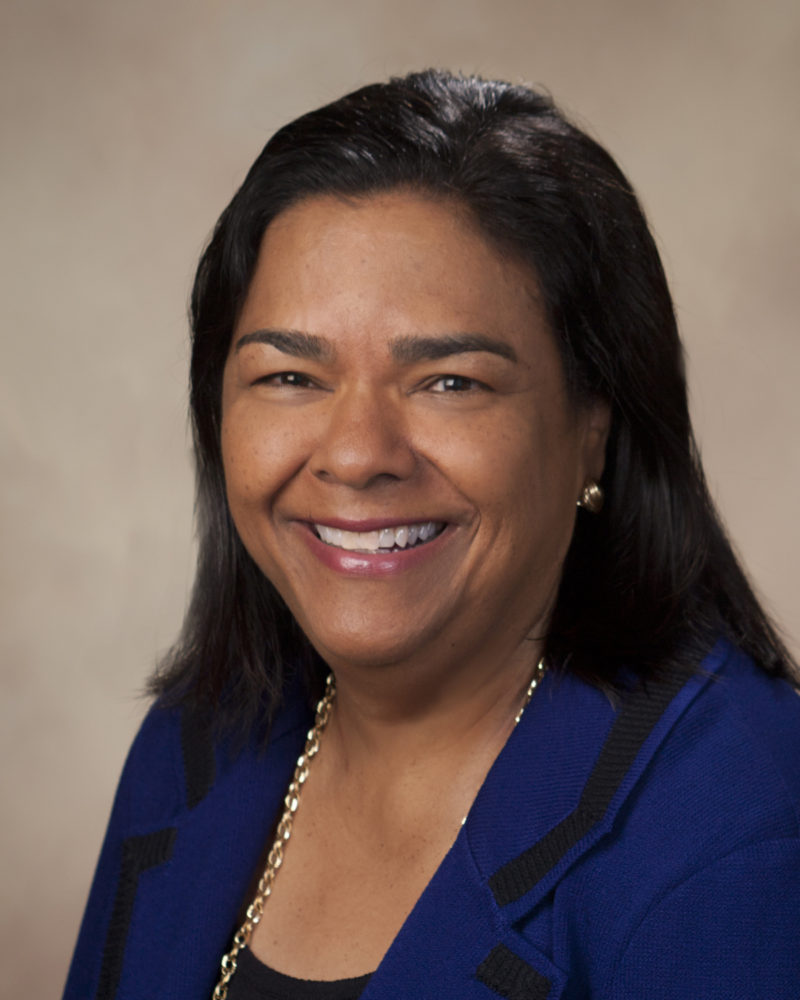 Gloria Johnson has been employed with Entergy since 1987. She began her career with Baxter Travenol Laboratories in Cleveland, MS, and then joined Uncle Ben's Foods in Greenville where she served as Cost Services Coordinator for 9 years. She later joined Mississippi Power & Light and has moved through the ranks from Customer Service Supervisor, Office Manager, and Public Affairs Representative to Lead Customer Service Manager. She is presently the Mississippi Director of Customer Service.
As Customer Service Director, Gloria's organization is responsible for community relations, customer satisfaction and customer programs for Entergy Mississippi's more than 435,000 customer base in 45 counties. Entergy Mississippi, Inc. is a subsidiary of Entergy Corporation. Entergy Corporation is an integrated energy company engaged primarily in electric power production and retail distribution operations. Entergy owns and operates power plants with approximately 30,000 megawatts of electric generating capacity, and it is the second-largest nuclear generator in the United States. Entergy delivers electricity to 2.7 million utility customers in Arkansas, Louisiana, Mississippi and Texas. The Mississippi Customer Service organization is also involved with economic development opportunities in the state.
Gloria is a native of the Mississippi Delta, a small community by the name of Delta City. Gloria attended Mississippi Valley State University where she received a B.S. degree in Business Administration. She also received a master's degree in Business Administration from Delta State University. Gloria is a graduate of Leadership Mississippi, Leadership Jackson, and Leadership Madison County. She was recognized in 2004 as one of the State's "50 Leading Businesswomen."
Gloria is a member of Farish Street Baptist Church and has served the community extensively. She has served as a board member of the Girl Scout Council of Central Mississippi, Metro Jackson Chamber of Commerce, Madison County Chamber of Commerce (past chairman) and the Juvenile Diabetes Research Foundation. She currently serves as a board member of the Public Education Forum (past chairman), Willowood Developmental Center, Jobs for Mississippi Graduates, American Red Cross, Mississippi Council on Economic Education, Mississippi Housing Partnership (past chairman), Community Place, Keep Mississippi Beautiful and the American Association of Blacks in Energy (past chairman).
Gloria is a member of the Jackson (MS) Chapter of The Links, Inc. and the Central MS Chapter of 100 Black Women, Inc. As a member of the Beta Delta Omega chapter of Alpha Kappa Alpha Sorority, Inc., Gloria is co-chairman of the Economic Security Financial Forum Committee and serves on the membership committee. She also serves BDO by participating on ad hoc committees and supporting chapter activities.
Gloria's philosophy of life is: "Consider life as a journey; live each day to its fullest, helping others along the way."
Gloria is married to Kenneth Johnson and they have one son, Brian.